Success Through Social Intelligence
The following two tabs change content below.

Randy Banna
I am a Mechanical engineer by study; Subsea engineer by practice, I started in the Oil & Gas sector in 2004. I worked for 8 years with BP in Egypt and the UK then for 2 years with Wood Group Kenny in the US. I am currently working on my MBA at Edinburgh Business School, Scotland and started my own consultancy firm in Egypt. I am a strong believer that collective effort and team work can build wonders, just like what our amazing Ancient Egyptian ancestors once did, you can reach out to me for Oil and Gas, Project Management or career development advice, please contact me on Facebook or Linkedin and I will be more than happy to help you out.

Latest posts by Randy Banna (see all)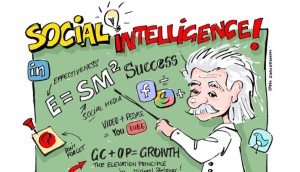 Just like any interactive environment in life, be that in sports, at home, on the street or at work, being socially intelligent, through proper application can help you develop strong alliances with people and corporations and gain support in every aspect of your life and ultimately help you perform better to reach your goals.
This article represents my honest opinion about what I learned from practical life in terms of using social intelligence at work to reach your objectives:
1. Be early to show up at meetings, strike a quick conversation with one or two people from peers to managers to clients. Pre-meetings are a great opportunity to have a quick conversation about the progress of a project, about your last vacation, the game of the previous night. These short conversations can a lot of times lead to the reinforcement of corporate relationships.
2. Identify the stakeholders that will help your job:
Gaining support from some of your colleagues, peers and superiors will certainly help you perform a better job. Some key people for example are:
• A technical adviser:
The go to person when the math is not right or when the engineering is not sound. As a manager you do not need to know how to design a bolt, you just need to know the client requirements and the person who can design the bolt.
• A seasoned project manager:
The go to person when the process is not right or when you need some advice with regards to a specific case on a project be that relates to cost or schedule control or about how to clear a conflict with your client.
• A career mentor:
These guys do not come by easily as they typically need to be higher up in the organization which means they may not be easily accessible. When available and interested in giving you advice, they can open up new opportunities and help you explore your full potential and needless to say support your career development.
3. Identify your most competent peers
Some people are intimidated by their peers and get automatically into a competition mode. I see this as an unhealthy trait in the work place. If you rank better than your peers by your superiors then help those who seek your support and for those who rank higher than you, respect them. In both cases there is a lot of learning to be grasped, be friends with everyone and learn how to improve your capabilities by observing how others perform and filtering what you do accordingly.
4. Differentiate between those who like to talk and those who act
Follow the steps of those who are clear minded, who understand the requirements of the job, put a plan together, involve the correct stakeholders and get the job done. This is what the business needs and those are the ones you need to closely follow and learn from.
5. Know your limits (jokes, ethics, compliments)
This highly depends on the country where you work, what was acceptable while I worked in Egypt was not acceptable when I worked in the UK or US. There is always room for a good laugh during work as long as it is in the appropriate context, no one wants to work with a grumpy person and at the same time no one wants to work with the guy who jokes about every little event.
6. Be respectful
Respect earns you respect. Not much to say other than that, I believe it describes it best.
7. Never brag about your success
This point expands on the previous point. Avoid being arrogant, as much as you can be modest and stay focused on your job and your career path and formulate your career development plan accordingly. Colleagues will admire and respect a modest competent person.
8. Volunteer
If your time allows it and if it will have beneficial outcomes for your firm then volunteering is always met with encouragement. The context I am referring to as an example would be for you as an engineer to pull together a lunch and learn for non technical teams (like finance, accounting or HR) to explain the product lines or services your company sells. This will certainly expand your circle of connections and by result your circle of influence, you can become a go to person for non technical supporting functions in case they have any technical questions.
9. Give training if you have relevant expertise
This expands on the previous point but is more directed to your colleagues and peers. If you are an expert in your discipline then sharing your knowledge is an excellent way to gain supporters, identify your weaknesses and develop a strong presence in your firm.
Respect earns you respect.