Egyptian Team Wins Houston The Sister Cities of Houston Tournament
The following two tabs change content below.

Yehia O
Serves as the President of the Board of Directors of the Egyptian American Society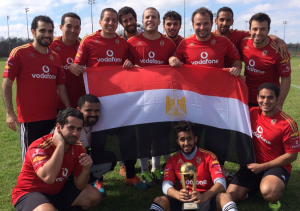 The Egyptian soccer team beat the Japanese soccer team in the final round of the annual Sister Cities Houston Soccer Tournament, to be crowned SCH Soccer Champions. Eight teams participated in the tournament, which was held on February 7 at Cullen Park.
The two-day soccer championship was held on January 31, 2014 and February 7, 2015 by SCH and sponsored by Methodist Hospital. The non-profit citizen diplomacy network aims to strengthen and promote partnerships between international communities in an effort to increase global cooperation at the municipal level, stimulate economic development and raise cultural awareness.
The six Sister Cities participating were Abu Dhabi, U.A.E., Huelva, Spain, Chiba, Japan, Baku, Azerbaijan, Istanbul Turkey and Tampico, Mexico. The majority of teams consisted mainly of players from the representing countries. Team Egypt participated as a guest team.
Team Egypt, led by Yehia Omar and Kamal Kamel, consisted of players partaking in the Houston Football Association Leagues, with members from Exiles FC, and Tango Elite.
The teams were split into two groups, Group A and Group B, for the first round. After three games, the top two seeds would qualify for the semifinals.
The Egyptian team, in Group A, was off to a slow start on January 31, the first day of the championship, drawing 1-1 with the U.A.E.'s team. Things quickly picked up for the team and they scored big, beating Methodist Hospital and Azerbaijan 4-0, qualifying for day 2 as the group leader.
Egypt beat Spain 3-0 in the Semifinal and moved to the Final facing Japan, who beat the U.A.E. 4-3 in an exciting game.
Team Egypt, wearing Al-Ahly jerseys, was off to a good start, scoring 20 minutes into the game and ending the first half 1-0 against Japan. Al-Ahly is a popular Egyptian soccer team. The team held off a strong offensive display from Japan and was able to double their lead and seize control of the ball for the remainder of the game, winning 2-0. Team Egypt was awarded the SCH Soccer Championship Trophy for the first time.
Team Egypt proudly displayed the diversity of the Egyptian community in Houston, with students and professionals in the engineering, finance, business, automotive and medical fields. The team included Christians and Muslims, as well as Egyptians from different areas of Egypt and the Houston Metro. The team also displayed a strong will, great teamwork, fair play and exceptional positive energy throughout the tournament, proudly representing Egypt. SCH was proud to add Egypt as a guest team and plans to continue inviting Egypt to partake in tournaments whenever possible.